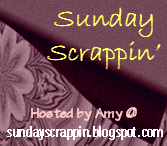 I am a day late on this, but we jsut had such a busy weekend. I made these for teh teachers in Wyatt's teachers. They are Bath Salts. I used orange and lemon oil, mmm it smells so nice and refreshing, kind of a pick me up salt.
So I won't be here for the next week, I lots of packing to do for my Scrapbook Retreat to Pacific Beach. So this is on my To Dos this week, lots of packing.

I will be gone from Thursday afternoon till Sunday afternoon. When I get back I will hopefully have lots and lots of layouts to share.