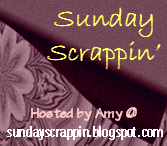 My TaDas- So for this Sunday I am sharing my Scrapbook room gut.
There are two posts
here
and
here
.
For next week I am going to follow along with their challenge and get some Valentine crafts done.
Thanks for stopping by and head on over to Sunday Scrappin
(just click pic above)
to share what craftiness you did this week.