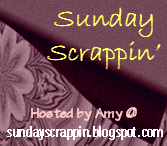 So I wasn't able to get the layout I wanted to done by today.
You can see my desk in the post below with the start of the layout on it. Might try to do it today, but Wyatt is sick and won't let me off the bed. He wants 'to be with me' as he says. Hubby will be at a Super Bowl party so maybe if Wyatt falls asleep I can work on it.
It is hard though, you ever have one of those layouts you just aren't quit sure what you are going to do. So it sits on your desk for like a week and everytime you walk by it you work on it or just stare at it. And it sits there until what you want just hits you, 'Ahh ha that is what I want to do.' well I think this is one of those layouts.
I did get one layout done this week though,
Brothers
.
My
To Dos this week
will just to get the Thomas the Train layout done. That is my goal. Oooh and to convince myself that I do want to take the extra 2-3 hours and hit Lasting Memories srapbook store on my way to pick my boys up on Friday.
Don't forget to stop on by Sunday Scrapinn (click button above).